Greenschools Travel News March 18
This is a child page of Greenschools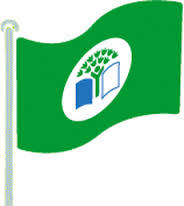 Greenschool News April 2018
The new term brought great news to St. Louis Infant school. On Thursday, the 12th April Mrs. Greenan received a letter from An Taisce informing her that our application for the International Green Flag award was successful.
This is our 4th award in St. Louis Infant School and a big congratulations to all, especially the Green-School Committee, Mrs Greenan, Ms Hughes, Ms Boylan, Kevin Clerkin, Cáitlín, Ryan, Elinga, Faustas, Jacob, Aleksandra, Jayden, Jan, Jessica, Zoe and Ugne. Friday afternoon brought another surprise for the committee. Mrs McCarroll organised a little celebratory buffet in the staffroom. A great time was had by all. Thank you Mrs McCarroll.
Green-Schools Action Day for our 4th Green Flag - Travel 9th March 2018
St. Louis Infants School had their "Big Walk Day" on Friday, 9th March and what a wonderful day it was. The whole school made a big effort to walk to school from home or park and stride from various parking places around the town. Lots of us assembled in Mc Nally's car park at 8.30 am. The staff, parents and the children all walked together. The sun shone it was a beautiful morning for a Spring Walk. The atmosphere was warm friendly and there was a real community spirit with parents helping with supervision and photographs. Mrs Carmel Mc Carroll, the Principal led the way and facilitated a very safe crossing at the traffic lights. It was lovely experience for all who participated.
Action Day Activities
A big Thank You to Pauline Tilson, Education Officer in Monaghan Museum for her Display of Railway Artefacts, which the First classes enjoyed immensely. It is always interesting to learn about times past and how our grandparents travelled.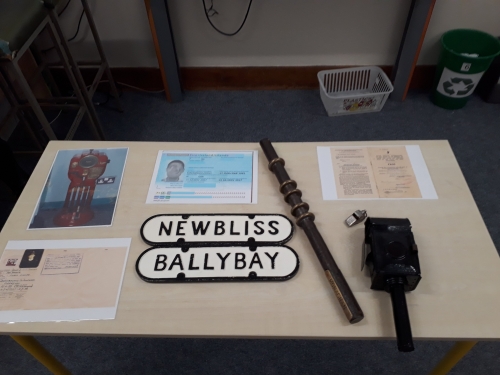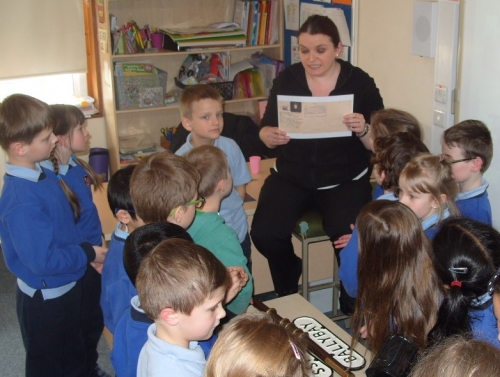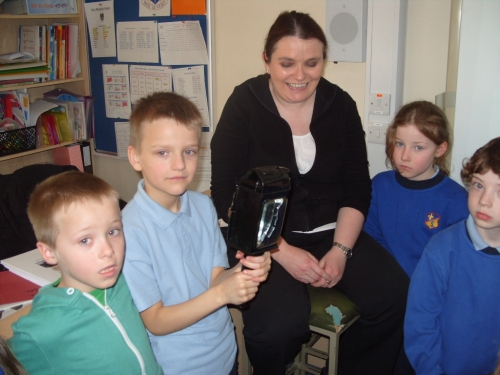 A big thanks to Josephine Mulholland our friendly Lollipop lady who visited the Junior Infant classroom. Josie had a lovely chat with the children and they responded with enthusiasm. It was educational in so many ways, safety first, stop look and listen, always wait behind the warden. Josie had her very own rhyme, which the children learned and the Junior Infants in Room 4 extended in their own way.
"Don't go 'til Jo says so,
When you see her say hello"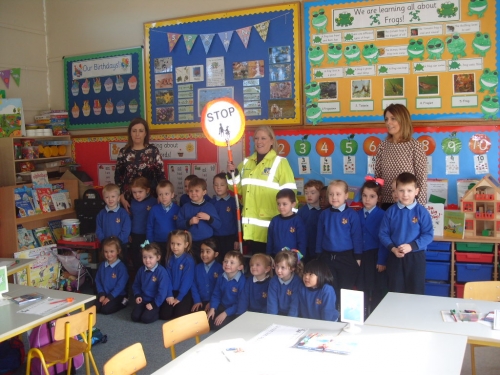 The Table Quiz
The Senior Infants had great fun with their very first experience of a table quiz. It was based on the "Climate Change Workshop" which we took part in back in November 2017. Thanks to Sorcha Brophy, Greeen Schools Co-ordinator from An Taisce for her power point presentation, which she emailed to us and to the class teachers and Ms. Hughes, Ms. Fitzpatrick and Mrs. Greenan who helped in the classrooms.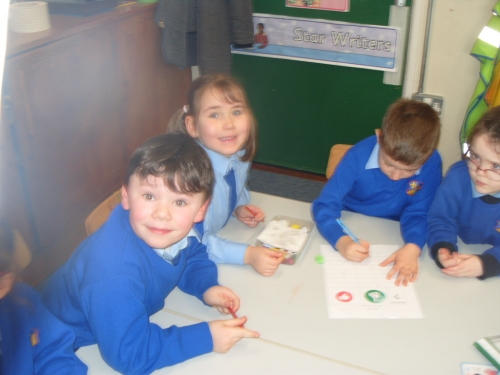 Seachtain na Gaeilge agus comórtas póstaeir Téama "Taisteal glas"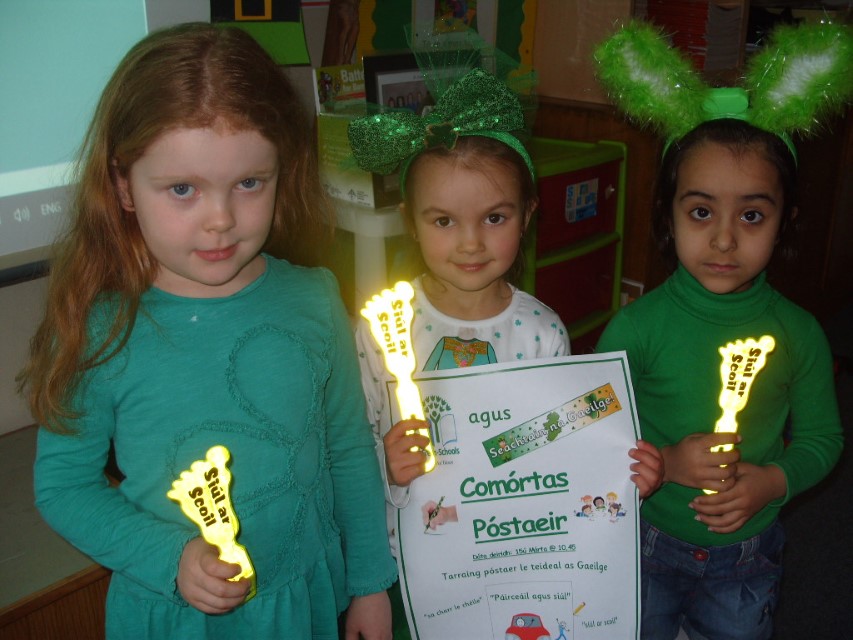 Buíochas mór do Sorcha Brophy agus An Taisce mar gheall ar na duaiseanna beaga galánta a bhronnadh ar an scoil. Bhí duaiseanna beaga d'achan rang. Bhí an caighdeán an ard agus bhí obair an dheacair ag na múinteoirí na buaiteoirí a phiocadh amach. Míle buíochas do chách a chuir isteach ann. Tá súil agam gur bhain sibh taitneamh á tarraing.
Thanks to Mrs. Greenan our Green School Co-ordinator and the children on the Green School Committee who organised all these events for the whole school Action Day. We had busy but enjoyable day.