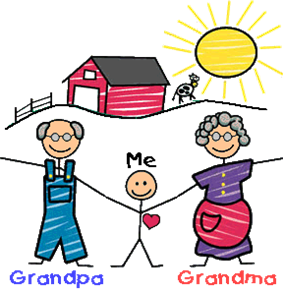 Grandparents Day 2019
Thanks to Monaghan Education Centre, St Louis infants were privileged to take part in the Artist in Residency programme (also known as T.A.P). Preparation for this began back in July of 2018 when Mrs Greenan was fortunate enough to attend a wonderful summer course. This marked the beginning of a partnership between the teachers in St Louis Infants School and renowned musicians Martin Donohue and Paul Jermyn and Marian Crowe seannós, dance teacher also known as "Nyah".
April 4th was a momentous day for the children, staff and grandparents in St Louis Infants School. This annual event came to life in a new and colourful way with the presence of "NYAH", none other than the Cavan man himself Martin Donohue accompanied by Paul Jermyn guitar player and singer.
It was indeed a lovely event with poetry, traditional songs such as Molly Malone, The Rattlin Bog, Teir Abhaile Riú and some of the childrens' favourites "I have a small teddy" and "A Song for Grandpa". During the day, some Junior Infants entertained us with beautiful lilting (Rakes of Mallow). Martin explained that lilting was called "mouth music" and was very common a long time ago when there was no money for instruments. "Nyah" came to visit our school and traditions came to life on the stage of St. Louis Infants School. You could see this on the faces of the little children as they sang, marched, clapped, tapped, recited and lilted to the absolute amazement and joy of all who were present. April 4th was much more than just an event. It was a culmination of lots of musical experiences creating memories which will remain with the children forever.
From September 2018 to March 2019 Nyah, led by Martin, have worked with the teachers and children in St. Louis Infant School as part of the Artist in Residence Programme. This involved a series of workshops culminating in a whole school performance on Grandparents Day.
Nyah is one of those wonderful expressions (pronounced neeyah) used to describe music from the heart that is neither forced or phony, so NYAH tends to recognize those who have made the deepest contributions all round Ireland. The NYAH group of traditional arts was established in 2000 and since its inception it has been ambitious for the programming and development of the traditional arts. Over the years the NYAH has worked with local, national and international traditional artists for example Cherish the Ladies, Beoga, Sean O Sé and Sharon Shannon. They have worked with artists from various musical genres and art disciplines including: Donovan, Holger Christian Lonze, TP Mc Kenna, Windows Publications and Rikki Van Den Berg on projects that extended the reach and remit of the traditional arts. Musicians of all ages have been mentored and encouraged through workshops, performances and recordings. NYAH has produced The Cavan Bucks, a young three piece group and A Call from the musical Heart of Cavan, a 4 set box CD. Martin Donohoe, founder of NYAH is working closely with Jack Keyes, Cavan County Council and Comhaltas and have brought Fleadh Cheoil na hÉireann to Cavan for three successful years.